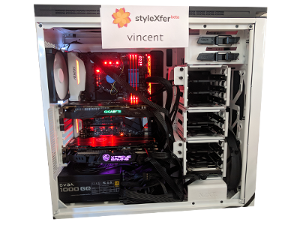 Vincent, our first GPU art server.
Based on AI methods called deep neural networks,
style transfer
and
stable diffusion
enable anyone to create astoundingly detailed and
beautiful artwork
from their photos. But there's a catch. The techniques requires huge computation resources and
expensive
GPU hardware, even for small photos. Our solution? We invested on a
powerful platform of super computers
, each one loaded with multiple last generation GPUs. Also, we have optimized the rendering pipeline software to make it highly efficient and productive. The result is a service that can process style transfer
quickly
, produces extremely detailed
high resolution output
, and is quite
low-cost
.